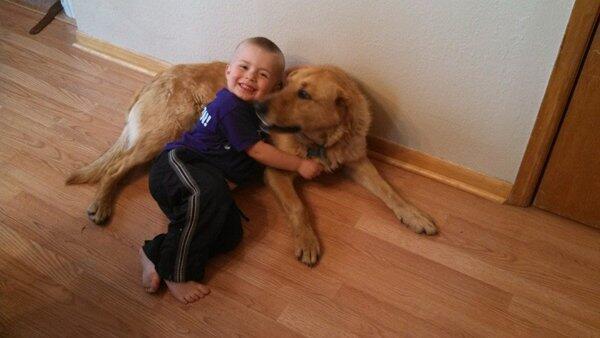 Posted on @GoodNewsCops on Twitter
The family dog, Cooper, protected a missing 3-year-old boy from the elements near his home early Tuesday morning, including a thunderstorm, in Cooperstown, North Dakota.
3-year-old Carson Urness had been missing since about 7:30 p.m. Monday evening. He wandered away from his family's 10-plus acre property while his mother was inside watching their 11-month-old daughter. Cooper was also "missing."
"Cooper is the family's German shepherd-Golden retriever mix who was adopted three years ago by the family after he had been found abandoned on the side of the road near a relative's house," according to a May 8
Newsmax
article.
The parents were joined by local police, a fire department airplane, and 200 neighbors in the in the search for their son. But they were unable to locate the boy. Due to weather conditions those searching on foot were sent home at about 2:00 a.m.
Police sent out a four-wheeler at about 2:30 a.m. on a final sweep of the property, and discovered Carson in a patch of tall grass with his faithful dog lying over him.